NEWS
13 - 16 September 2018
Sydney Contemporary, This is No Fantasy , Dianne Tanzer & Nicola Stein
https://sydneycontemporary.com.au/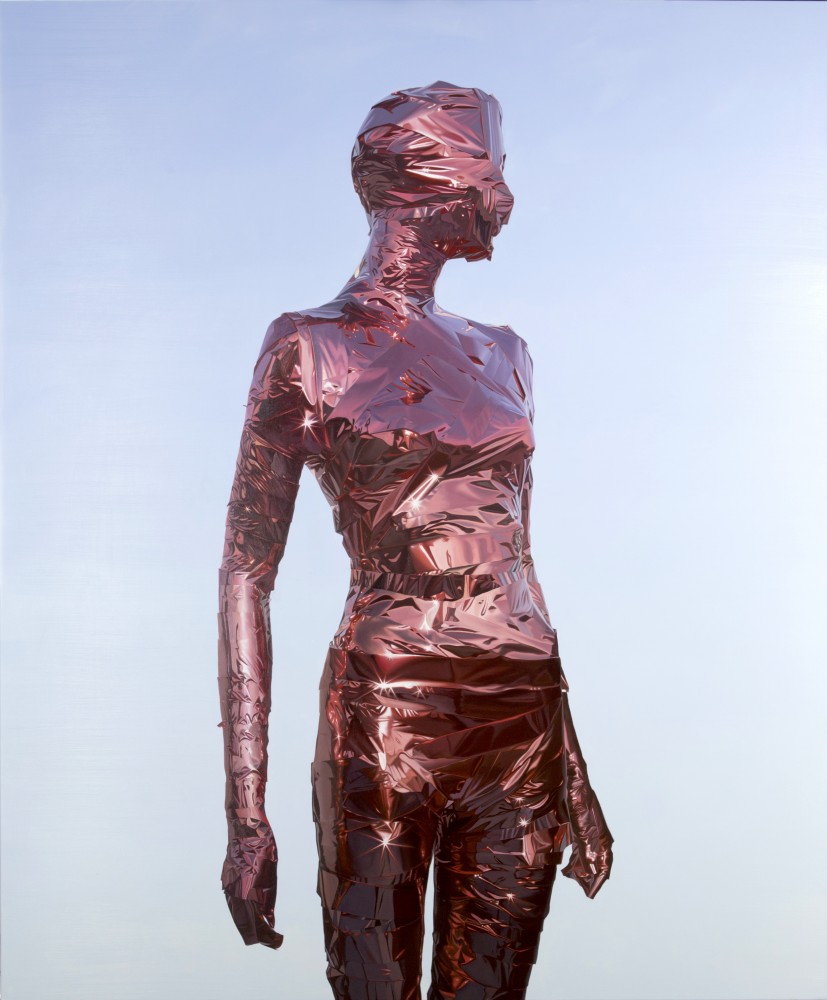 ________________________________________________________________________________
Australian War Memorial Commission:
Corporal Daniel Keighran deployed to Afghanistan in February 2010 with the 6th Battalion, Royal Australian Regiment. On 24 August 2010, Corporal Keighran was part of a combined Australian and Afghan patrol, when they came under fire by a numerically superior and coordinated enemy attack from multiple firing points in three separate locations. Corporal Keighran lead and mentored his team to effectively suppress enemy firing points, while exposing himself to persistent enemy fire. Corporal Keighran was awarded the Victoria Cross for Australia on Thursday 1 November 2012 for a most conspicuous act of gallantry and extreme devotion to duty in action in circumstances of great peril at Derapet, Uruzgan province, Afghanistan, as part of the Mentoring Task Force One on Operation SLIPPER. [Source: https://www.army.gov.au/our-people/victoria-cross-for-australia-recipients/corporal-dan-keighran-vc]

Juan Ford's intention with this larger than life size portrait of Daniel Keighran was to create an immersive experience for the viewer. The indistinct expansive sky could equally situate Keighran in Afghanistan or Australia. The artist had only one day to meet and work with his subject. His first impressions were of a 'good guy', a shy and humble man who has done something extraordinary. Ford wanted the physical scale of the painting to allow the viewer to conceptually step into Keighran's shoes for a moment. This work celebrates more than an individual story of courage and bravery, it also represents the national story.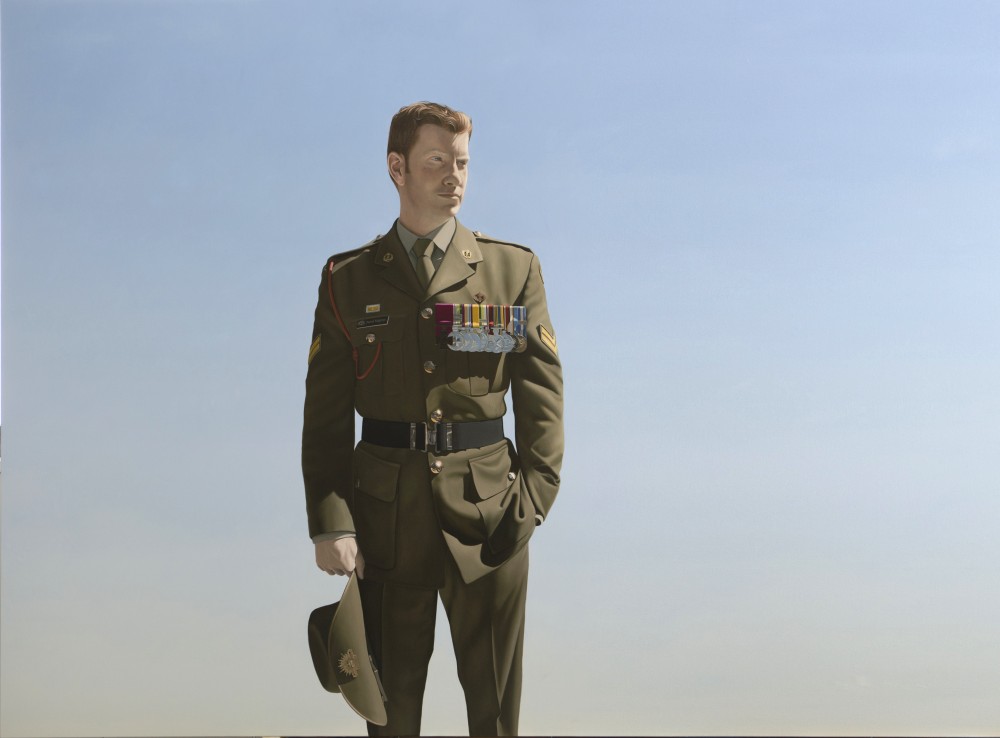 __________________________________________________________________________________________________
4 Oct - 31 Dec 2015
Exhibiting in '21C Hyperrealism' at The Daejeon Museum of Art, Korea, this prestigious exhibition includes work by Australian and Interanaional artists.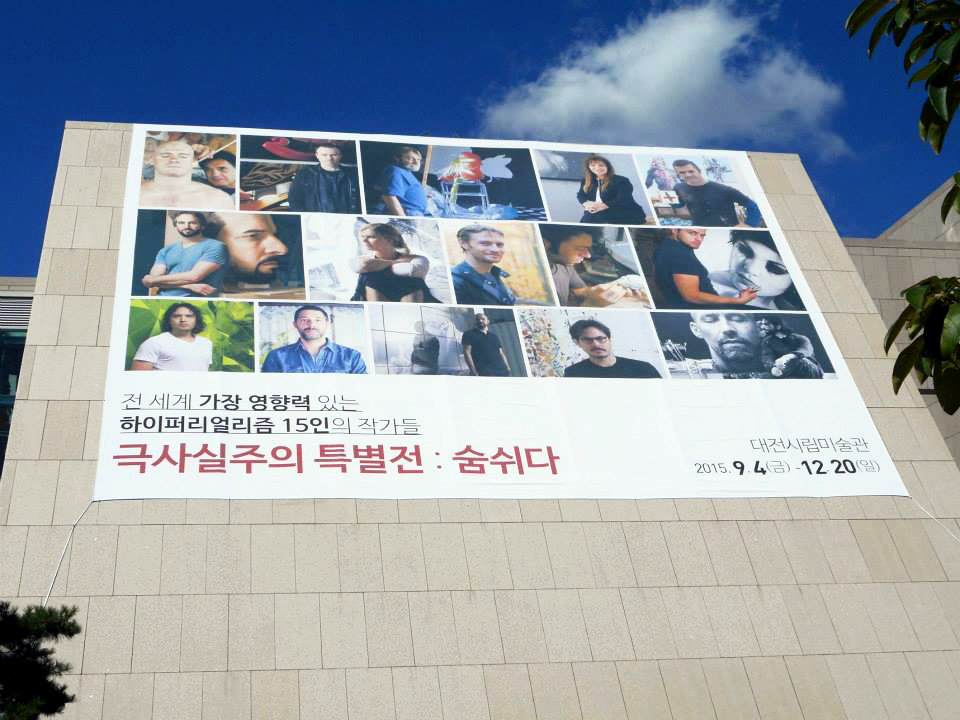 ---
12 September - 12 October 2015
Flock Popagation is part of Empty Garden, a project curated by Tomasz Wendland as part the 5th Nakanojo Biennale, Japan. In association with Asialink.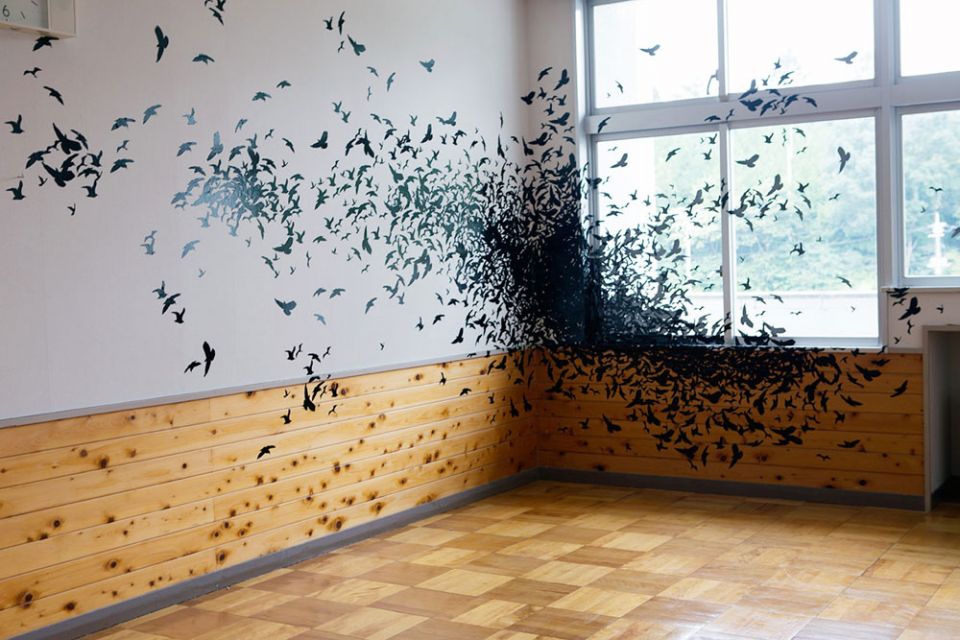 ---
12 July 2015

I'm happy to announce that Ive been included in the 2015 Archibald Prize, at the Art Gallery of NSW.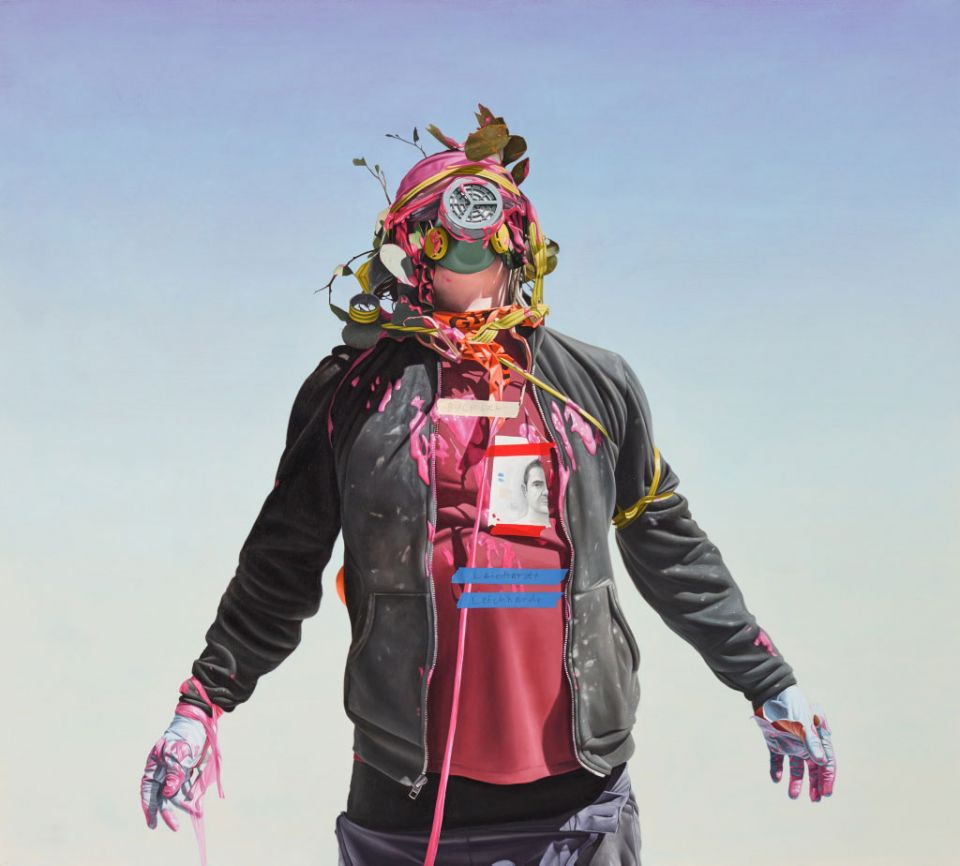 Juan Ford
'A bungled clairvoyance of William Buckley or Ludwig Leichhardt's most intense moments (I can't decide which, you choose. Attempted while atop a mountain'
137 x 152 cm
oil on linen 2015
http://www.artgallery.nsw.gov.au/prizes/archibald/2015/29623/
---
Juan Ford will be showing with Galerie Du Monde at Art Stage Singapore. Featuring a selection of new paintings including The Supplicant. Singapore Art Stage runs from 22 – 25 January 2015.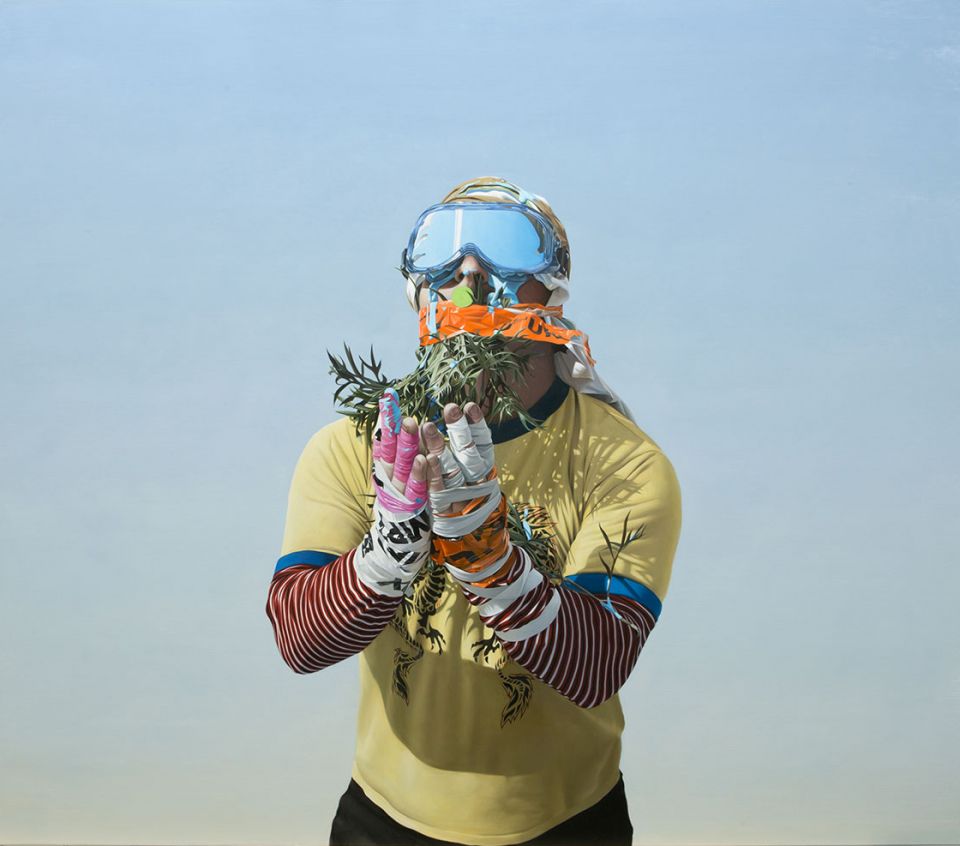 Juan Ford, The Supplicant, 2015, Oil on linen, 137 x 152 cm
---
Sullivan+Strumpf's Group Show 2015 will be on in Sydney from 31 January - 21 February. Included will be an ambitious new painting by Juan Ford: The Messenger.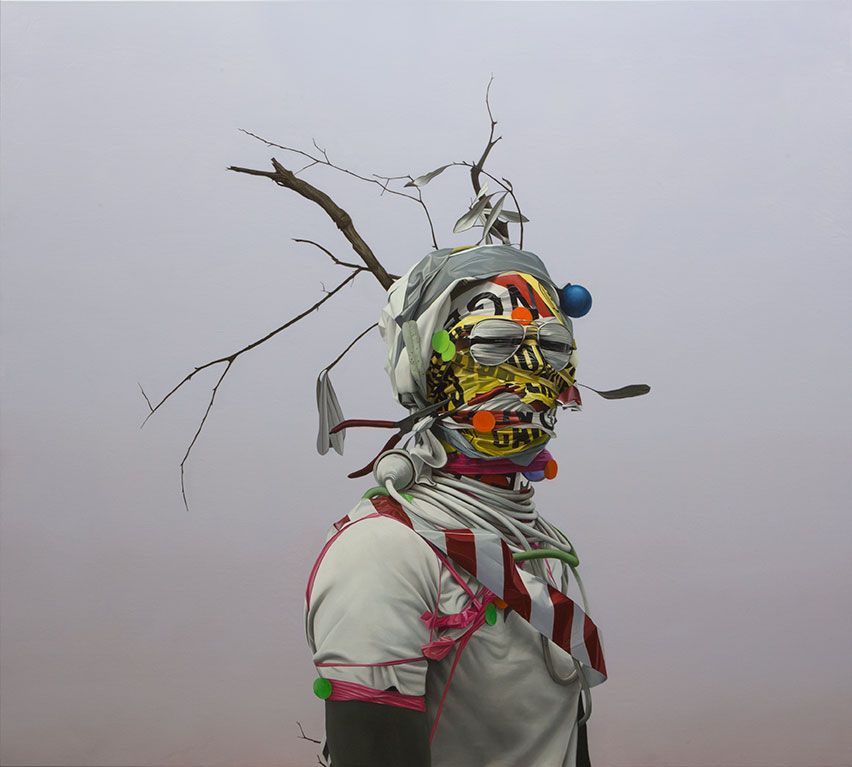 Juan Ford, The Messenger, 2014, Oil on linen, 137 x 152 cm
---
Now showing at the National Portrait Gallery until Monday 9 March 2015, In the flesh is an exhibition of contemporary figurative art that explores the concept of humanness. Included are two recent paintings featuring 'play' weapons created from natural found objects and industrial detritus.

Photorealist paintings by Juan Ford were, for me, the most affecting. Ford's Degenerator (2013) is a masked, paint-spattered figure holding a bunch of sticks wrapped to look like a gun: the playing of war games reflects the reality of war in a disturbing way, so familiar yet alien.
Andrew Frost, The Guardian, 18 December 2014

Artists in the exhibition include Natasha Bieniek, Robin Eley, Yanni Floros, Juan Ford, Petrina Hicks, Sam Jinks, Ron Mueck, Jan Nelson, Michael Peck and Patricia Piccinini.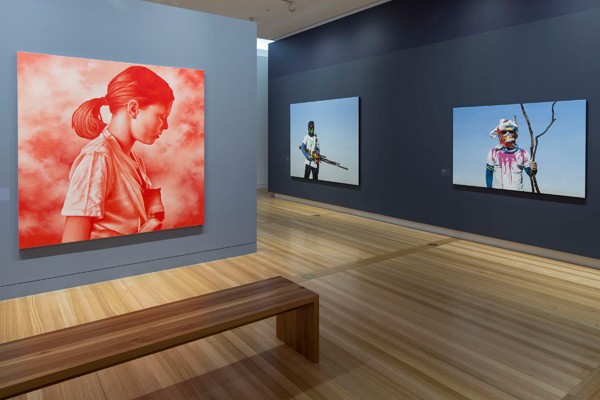 In the flesh, installation view. Left: Michael Peck. Right: Juan Ford
---
The Archibald Prize, is now touring Australia. First awarded in 1921, it is one of Australia's oldest and most prestigious art awards and the exhibition is a who's who of Australian culture.

There's still a chance to view Juan Ford's Archibald entry, Channelling CW Piguenit, startled by a spectacular sunset viewed through a canopy, should you find yourself in any of the places listed below. This painting; part tribute, part folly, part self-portrait, references WC Piguenit, who is often credited as the nation's first Australian-born professional painter.
View all the finalists at the following galleries in 2015:
16 January – 22 February Maitland Regional Art Gallery
28 February – 12 April Lismore Regional Gallery
18 April – 31 May Coffs Harbour Regional Gallery
5 June – 19 July Broken Hill Regional Art Gallery
24 July – 6 September Griffith Regional Art Gallery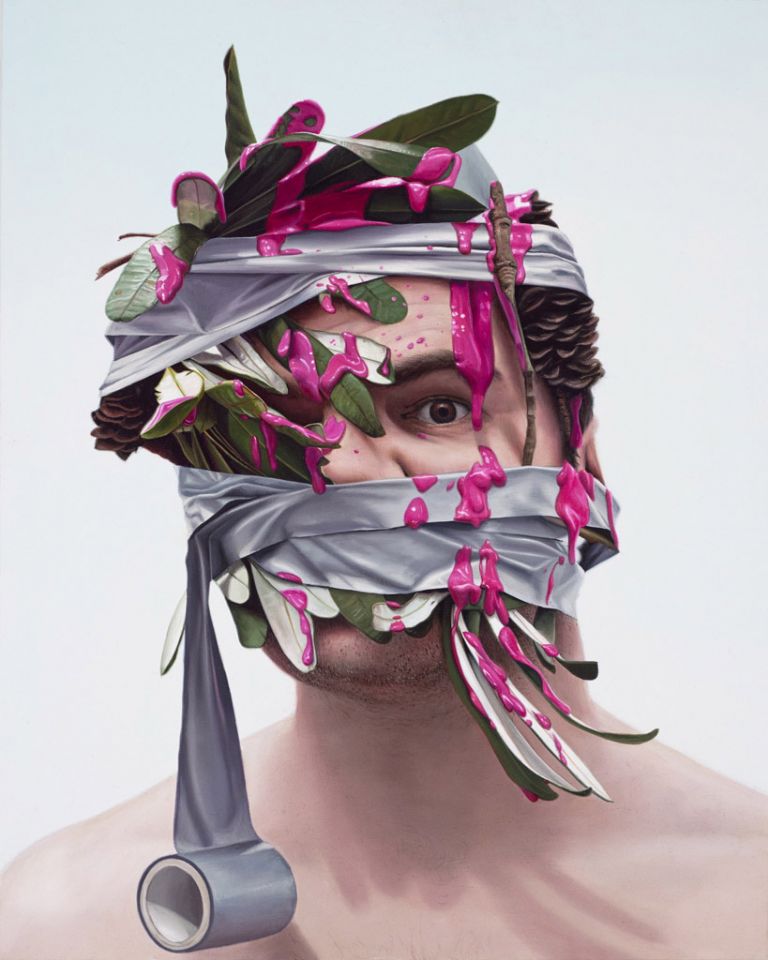 Juan Ford, Channelling CW Piguenit, startled by a spectacular sunset viewed through a canopy, 2014, Oil on linen, 51 x 41 cm
---
Juan Ford is pleased to annouce an upcoming exhibition at Art Taipei 2014. The exhibition of new work will commence a new relationship with Galerie Du Monde (Hong Kong). Established in 1974 Galerie Du Monde specialises in contemporary and modern artwork by international and Chinese artists.
Art Taipei opens 31 October - 3 November, World Trade Centre, Taipei, Taiwan.
Juan will be exhibiting in 2015 at Galerie Du Monde Hong Kong.
UPCOMING EXHIBITION

The Medium is the Message - La Trobe University Museum of Art
Juan Ford is included in the upcoming exhibition at La Trobe University Museum of Art. The Medium is the Message brings together prominent contemporary artists who's work reflects upon the medium of painting and the state of painting today.

Since the birth of photography, painting has been persistently declared dead. However for almost two centuries painting continues to defy boundaries and has in fact become a subject unto its own self. Painting is no longer merely a medium but a subject matter that is painting its own future.

The Medium is the Message includes Juan Ford, Amanda Marburg, Chris Bond, Eolo Paul Bottaro, Sam Leach and Victoria Reichelt.
Curated by Michael Brennan
Opening Wednesday 30 April until 27 June 2014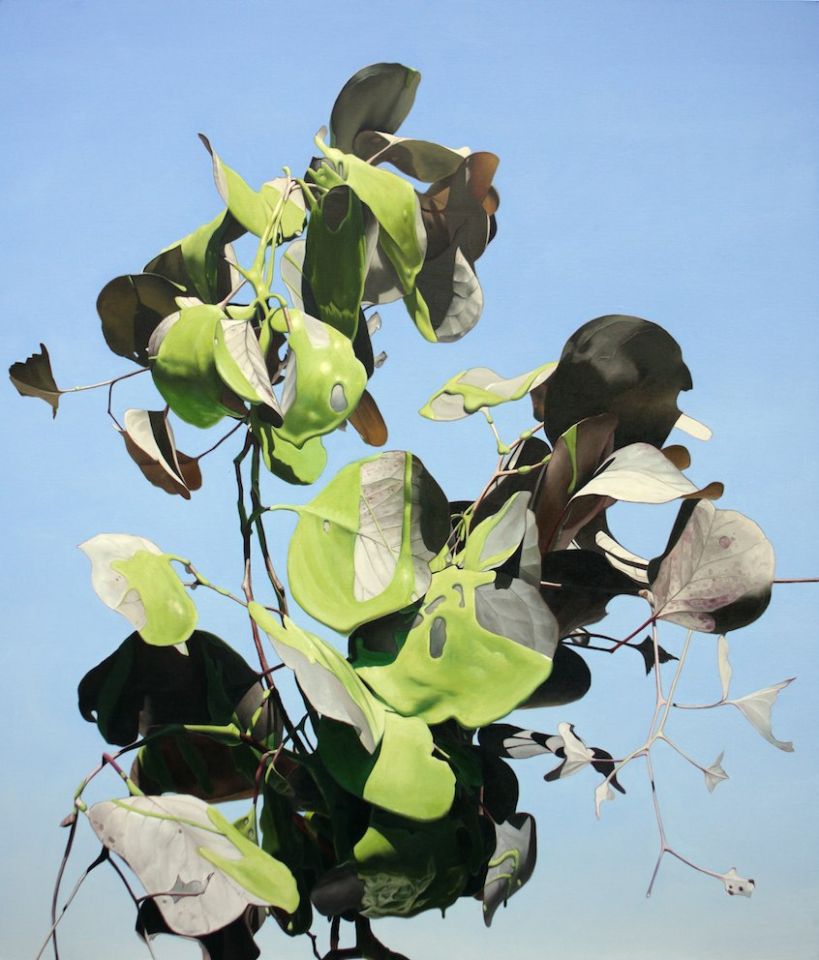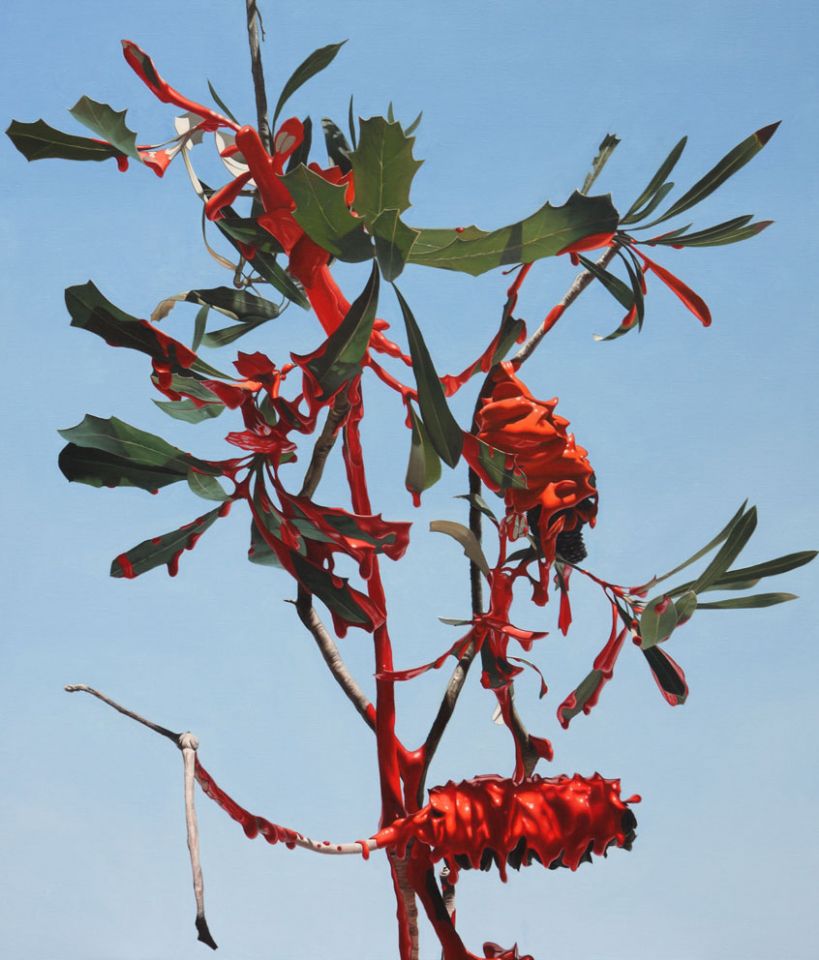 Ghost Busted Gum, 2012, oil on linen, 107x92cm
Hot Spot, 2012, oil on linen, 107x92cm - Collection Gippsland Art Gallery
---
FloraXFauna
FloraXFauna brings together artists who focus on the timeless subject of nature. Featuring artists, designers and scientists who's work deals with our persistent connection to the earth and our unavoidable impact on the environment.
The online exhibition features artists from around the world and is curated by Haley Kattner Allen, Gabriela Ochoa, Deirdre Milionis.
Click here to view the online exhibition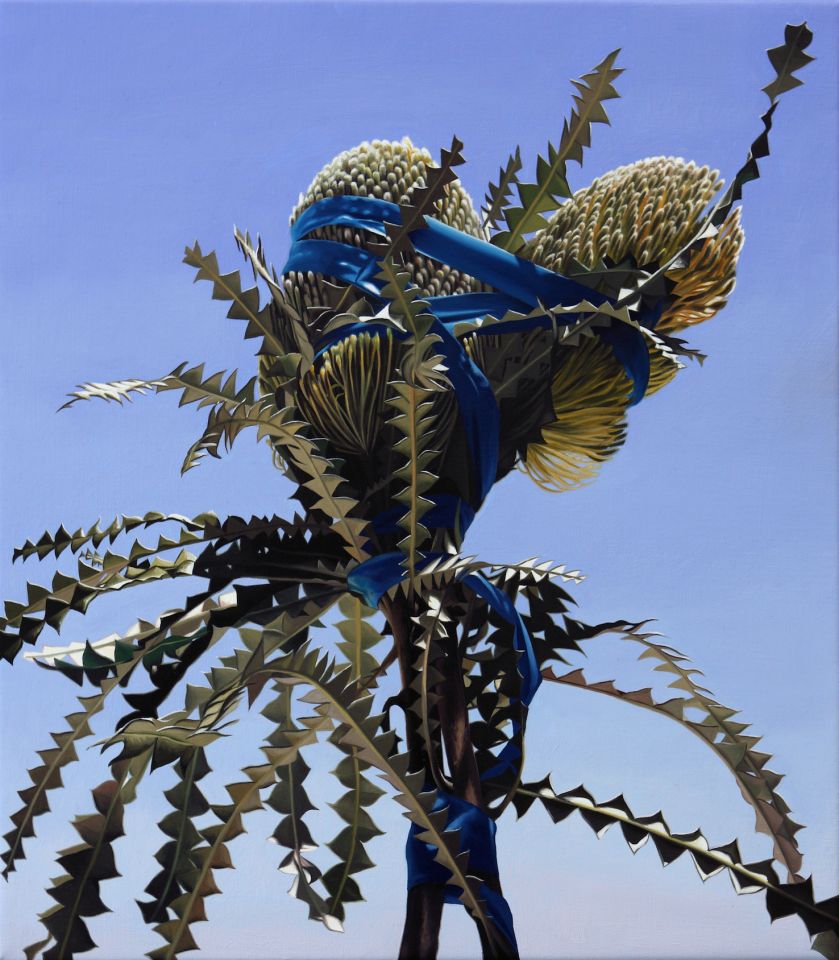 Dirty Deeds, 2009, oil on linen, 41x36cm
---
Last Chance to see...
Lord of the Canopy at McClelland Gallery + Sculpture Park. Closing Sunday 27 April, this is the last exhibition for the project that has been ongoing since 2012.
Lord of the Canopy was also exhibited at Mildura Arts Centre, Mildura and La Trobe Visual Arts Centre, Bendigo in 2012 & 2013.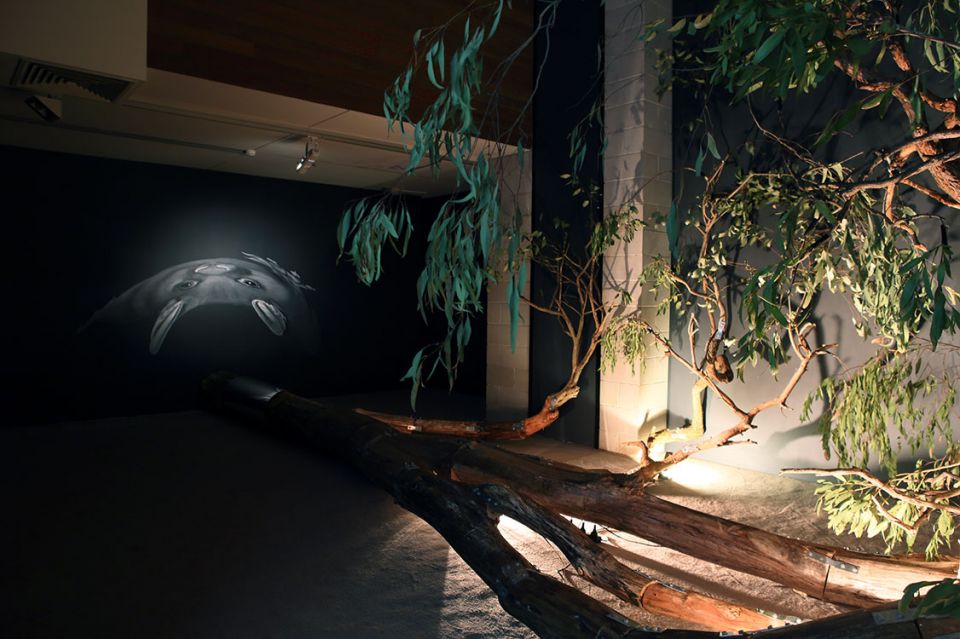 Eucalyptus tree logs and branches, steel, acrylic paint, wall installation, dimensions variable
---
90,000 stickers later... Melbourne Now - NGV
Melbourne Now at the National Gallery of Victoria has come to a close after an extremely successful summer season. 90,000 stickers were used on Juan Ford's interactive installation.
The exhibition drew more than 750,000 visitors over 4 months and heralded a new era for contemporary Australian art at the NGV.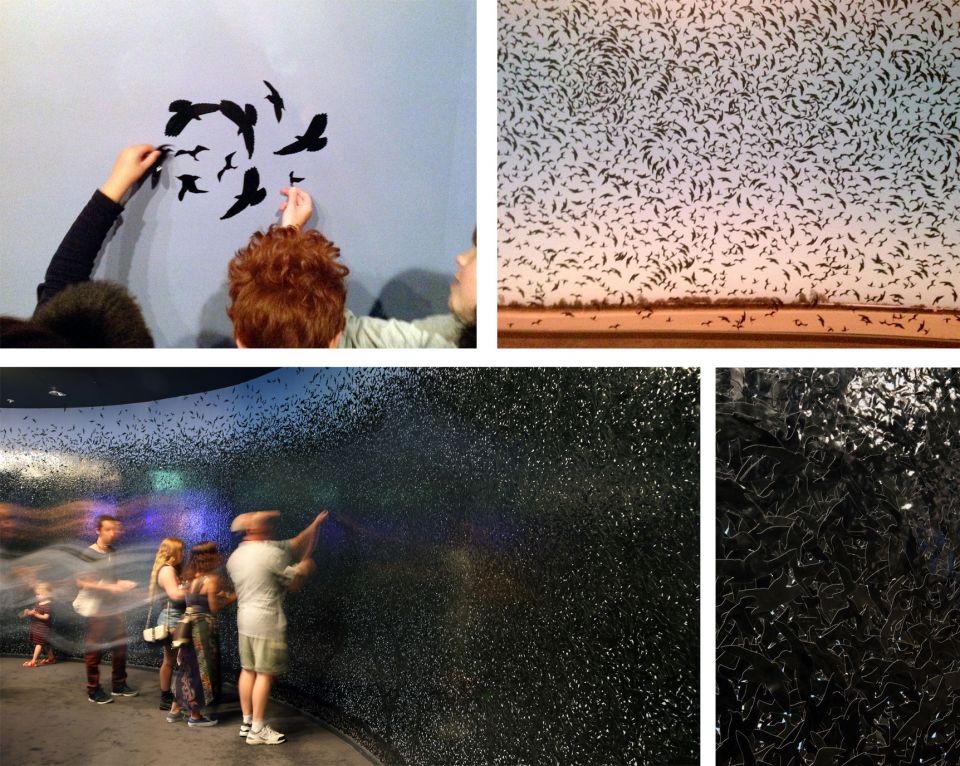 ---